--- It's just been announced that Holland's
Sanne Wevers
, who might have gotten her double turn with leg at horizontal named for her if she'd successfully competed it in Madrid, has scratched from the beam final due to an elbow injury sustained on Saturday.
Gympower
reports that Wevers fell during training and heard something snap in her elbow, which immediately began to swell. It's unknown at this point whether the injury is serious. Wevers will undergo an MRI scan upon her return to Holland.
Sanne Wevers (photo: Jasmin Schneebeli-Wochner/Gymbox)

---- On the plus side, Ukraine's
Daria Zgoba
, who wasn't sure she was going to compete on beam prior to arriving in Madrid because she hasn't quite recovered yet from the knee surgery she had at the beginning of October, will reportedly do beam, albeit with reduced difficulty.
--- On Day 1 of the competition,
ProSport
once again quoted
Sandra Izbasa
, who stressed again that she wasn't at all nervous about her upcoming appearances on Day 2: "I'm not nervous, because I'm going there to do two events on which I believe in myself. Also, I want to get on the medal stand. Everything now depends on myself."
--- Ever since it was announced that the FIG would reduce team sizes in 2009, meaning that all-arounders would become increasingly important to teams, fans have been speculating whether UB specialist
He Kexin
, who is all right but not terribly exciting on the three other events, would remain a force on the Chinese team. According to
this Sina article
, He herself is aware of her predicament and working on becoming more of an all-arounder. "I've already begun working on it," she was quoted as saying by Sina. "I'll train on all four events from now on in an effort to become more of an all-arounder." However, she's not going to neglect her famous bars routine. "The way things are now, I can do that routine with relative ease. But in the next Olympic cycle the rules will change a bit, so I'll have to learn more difficult elements." More difficult elements? Yikes. By which we mean: WOW. He Kexin says she hopes to go to the London Olympics. We kind of hope so too!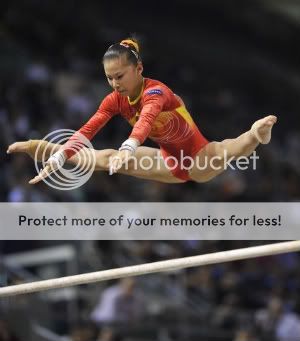 He Kexin in Madrid (photo: Volker Minkus/FIG)

--- Meanwhile, over in Brazil,
Globoesporte
reported that
Diego Hypolito
was over the moon with his gold medal on floor.
"I really needed this result," said the man who suffered a dramatic fall at the end of his Olympic floor routine. "I was psyched and eager to win when I walked onto the floor. I'm ending the year with the golden key and with one certainty: I'm on top again! I had to fight back the tears at the end of my performance. I'm very happy to be the first gymnast in the world to win a title in a grand final three times," said Hypolito, who also won the floor finals at the 2004 and 2006 World Cup Finals. He went on to say, "It was one of the best routines of my life, thanks to the degree of difficulty. I thought that I did the 'Hypolito' very well in my first pass. My second and third passes went well. On my fourth pass, I had a tiny mistake in my tumbling. But I succeeded in sticking the landing on my last pass, the one on which I fell at the Olympics."
Hypolito will have another chance of winning a World Cup medal in today's vault final.
Diego Hypolito celebrates his victory in Madrid (photo: Volker Minkus/FIG)

--- According to
Telegraaf
, Dutch "Lord of the Rings"
Yuri van Gelder
was more disappointed with Olympic champion Chen Yibing's failure to show up in Madrid than with his own failure to win the gold medal on rings. "It's definitely a pity he [Chen] wasn't here. It would have been a great man-to-man fight," said Van Gelder, who didn't get to compete against Chen in Beijing and was looking forward to a friendly "revenge" in Madrid. He was philosophical about his third-place finish in the Spanish capital. "Sure, it's a pity, but you can't always be the best." He indicated that he was quite satisfied with the year 2008, despite the fact that he didn't make it to the Olympics.
--- Finally, the FIG is actually updating its World Cup Final
photo galleries
, and some of the photos, such as this picture of Anastasia Koval's badly botched Tkatchev on bars (the one that caused her to fall on her head), are very good. Check out the galleries
here
.
Anastasia Koval in Madrid (photo: Volker Minkus/FIG)