Remember we told you that China would be adding new members to its national teams after Chinese New Year? Well, more news on the recent recruits is steadily trickling in, and our China correspondent JW is right on top of it. Here's Part 1 of her in-depth look at the new girls, some of whom look set to become genuine stars. Enjoy it, all you China fans!
A Brief Introduction to China's New Generation (Part I)
Earlier this week, fifty-seven young gymnasts from all over China reported to the National Training Center in Beijing to begin their quest for world and Olympic gold. Thirty-six of the newcomers are MAG prospects, eighteen of whom will begin training toward the London 2012 Olympics, and eighteen of whom have been selected with an eye to the 2016 Olympics. Nothing like long-term planning!
The other twenty-one athletes are WAG hopefuls for the 2012 Olympics. As we understand it, fifteen of the girls are newcomers to the national team, chosen from the sixty or so youngsters who participated in a December 2008 selection camp. The remaining five seem to be returning members -- juniors who originally joined the National Team in 2006-07, returned to their provincial teams in the summer of 2008, and have now been invited back to Beijing.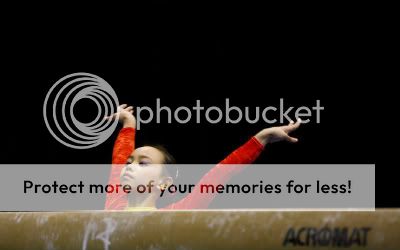 Tan Sixin (photo: Mark Nolan/Getty Images)

A complete roster has not been released yet, but recent Chinese news items confirm that the following six girls are among the lucky twenty-one:
Tan Sixin
and
Zhang Yujiao
(Shanghai);
Chen Shihua
(Guangdong);
Zeng Siqi
(Hunan); and
Huang Ying
and
Zhang Qing
(Hubei). Today's post will introduce the first four girls. Later this week, we'll profile the two youngsters from Hubei.
Tan Sixin
and
Zhang Yujiao
are already quite well-known to fans around the world. Following an impressive international debut at last month's Australian Youth Olympic Festival,
Tan Sixin
needs little introduction. We just hope that her new coaches can improve the technique on her balance beam dismount and help her develop more confidence everywhere. The willowy
Zhang Yujiao
is an elegant gymnast with considerable potential on bars, beam, and floor. She lacks power, but her artistry is a welcome addition to any competition. Here, we've provided three of her routines from the 2008 Massilia Cup:
Zhang Yujiao UB
: Her swing is a bit slow, and she misses a LB-HB transition, but oh, the toepoint! The lines!
Zhang Yujiao BB
: She's no Tan Sixin, but it's still a pretty routine.
Zhang Yujiao FX
: The tumbling is less than spectacular, but the choreography and expression are divine. Would that more gymnasts demonstrated such clear evidence of ballet training!
Zhang Yujiao (photo: Stefan Wurzer/Gymnasticsunited)

The following news clip from CCTV5 shows Zhang and Tan moving into the dormitory at the National Training Center. Zhang appears at 0:13 with a large package of toilet paper in tow. (For those of you who haven't lived in China: Communal living facilities aren't always equipped with toilet paper. Evidently, Zhang Yujiao didn't want to take any chances!) Tan appears briefly here and then again at 0:25, when she gets a hand from Olympic champion He Kexin...
Video: Zhang Yujiao and Tan Sixin move into the National Training Center
A related Sina article appears
here
.
Tan Sixin said, "Although He Kexin
jie jie
(big sister) is an Olympic champion, she doesn't put on any airs! She just helped me make my bed!"
Asked about her new teammates,
He Kexin
said that the infusion of fresh talent would promote a more competitive environment at the training center. "The newcomers have good conditions for development. We [veterans] have already reached a certain level, and it's difficult for us to make further progress. They have more room for improvement."
Chen Shihua, wearing both blue

and

pink eyeshadow (photo: Loo Winnie)

Guangdong's
Chen Shihua
is one of the fifteen girls selected at the December training camp. She won her age group at the 2007 Guangdong Junior Championships, but was unable to defend her title in 2008 when a foot injury limited her to UB. She recovered in time for the December selection camp, where she impressed the coaching staff enough to earn an invitation to join the National Team. According to
this Sina article
, Chen is a strong all-arounder who excels on the uneven bars. Interestingly, she began her career as a rhythmic gymnast but switched to artistic gymnastics four years ago. Chen is one of at least three or four Guangdong gymnasts joining the National Team this week. (Another one is likely to be AYOF competitor Wu Liufang -- we can't imagine that the national team staff would bypass her considerable talents.)
Major cuteness alert: He Kexin and Zeng Siqi (photo courtesy of Ling Jie's blog)


Zeng Siqi
, a protégée of 1999 World BB champion
Ling Jie
(who's been coaching the Hunan junior team for several years now), is another of the fifteen from the December camp. Based on
this article
, it seems that she has also been assigned to the Liu Guicheng/He Hua coaching group. After yesterday's training session, Zeng Siqi shyly told reporters, "So many of the 'elder brothers and sisters' [older athletes] that I respect are here [at the National Training Center]. I certainly won't let Coach Ling lose face."
At least one other Hunan gymnast joined (or rejoined) the National Team this week, and we're willing to bet that it's AYOF all-around champion
Cui Jie
.
To be continued...