We have a lot of Chinese news to catch up on, and we expect to have enough time over the next few weeks to post most of it. But before we dig into the older stuff we somehow didn't get around to posting before, here's some recent news...
Chen Yibing and He Wenna dating?
Lately the Chinese gymnastics headlines have been dominated by Olympic still rings champion Chen Yibing's presumed relationship with Olympic trampolining champion He Wenna. Chen and He have been spotted and photographed together on several occasions, having dinner, doing some window-shopping, attending a concert, and generally looking quite close (watch
this video
for images of them together), leading some to believe there is more between them than mere friendship. According to
Sina
, Chen Yibing is quite upset about the constant speculation about him and He, saying that people should focus on his sporting achievements rather than his private life. A few days ago the ring specialist told the Chinese press: "It is said on the Internet that we are in love, which I will neither confirm nor deny. We are friends, so it's normal that we should share a meal every now and then. I've haven't done anything to feel guilty about. I don't want to give an explanation, nor should I have to. I don't want to pay any attention to this sort of thing." For her part, He Wenna is
supposedly
laughing the whole thing off, saying she finds the hullabaloo about her supposed relationship with Chen Yibing "pretty ridiculous." We'll keep an eye on the situation...
Chen Yibing and He Wenna: an item?
(Photos: Matt Dunham/AP Photo (left) and Reuters (right))

Jiang Yuyuan wants to receive more applause...
In women's team news,
Jiang Yuyuan
was reportedly very surprised to hear that her province, Zhejiang, had nominated her for the provincial Athlete of the Year Award despite her failure to medal in the Olympic all-around competition. It seems Jiang is determined to do better in 2009. According to
Sina
, her goal for 2009 is "to show myself and receive more applause." We don't know about you, but we like the sound of that!
Jiang Yuyuan, keen to "show herself" in 2009 (photo: AFP/Getty Images)

Finally, some more videos from the Australian Youth Olympic Festival
...
We never got to finish our AYOF coverage last month, partly because of other demands on our time, and partly because we were waiting for those who attended and filmed the competition to upload their videos of the final day of competition. Well, by now all the women's finalists' routines and a few men's routines have been uploaded, and just in case you hadn't discovered them for yourselves, we thought we'd link to some more videos of the young Chinese stars who wowed the crowd in Sydney.
This
is
Wu Liufang
's winning routine in the balance beam final (score: 15.600). As far as we're concerned, Wu needs to learn to work a bit faster, but the style and skills are all very much there. We can't get over how gorgeous Wu's Yang Bo jump is. She is quite promising on
bars
and
floor
as well, although she will need significant upgrades on both events to become a serious contender for medals.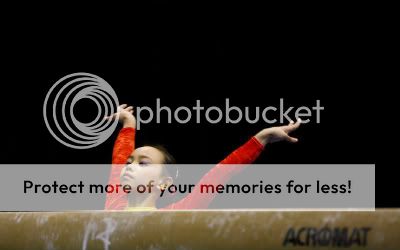 New Chinese star Tan Sixin at the AYOF (photo: Mark Nolan/Getty Images)
Secondly,
this
is the reason why our new favorite beam worker
Tan Sixin
didn't win the AYOF beam final: she had two major balance checks (punch front, sheep jump) and landed her dismount on her head. Her dismount looked pretty scary in prelims as well, so that's obviously something she needs to work on. Still, outstanding work from the young gymnast from Shanghai; it's obvious why she won the silver in Sydney despite the mistakes. Just look at the way she works in relevé (on her toes)! We can't wait to see more of this girl...
Finally,
this
is
Cui Jie
's gold-medal-winning 14.825 floor routine. The dance obviously needs some work (there are far too many breaks in the routine), but the tumbling has a lovely effortless quality. Give the girl a couple of years and she'll be a beautiful floor worker.
Cui Jie on the podium after winning the AYOF floor final
(Photo: Matt King/Getty Images)

And for the sake of completeness, here are two Chinese men's vaults from the AYOF, a nice
double twist
from
Liu Zhanteng
and an OK
single twist
from
Wang Yongchao
. Wang's
floor exercise
can also be viewed on YouTube. He'll need to upgrade the difficulty, but there's definitely some potential there.
More Chinese news to follow soon...